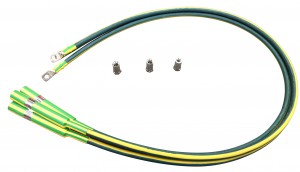 LV Bonding/Earthing Products
Part of the safe working procedures for several utilities in Australia is to bond cables to earth when they are isolated for maintenance reasons. This important safety procedure is supported by effective fault rating tests to ensure that, should a fault occur, the bond will remain in place while upstream protection operates.
The locking method employed in the Weber earth bypass bond is a quarter turn thread for convenient operation. Earth ferrules for mounting on equipment are available with M8 and M12 fixing threads to cater for a wide variety of applications.
Connection leads are available in any length. Standard cable lengths are 0.9 (for pillars), 1.5, 2, 3, 4 and 5 metres. Various handle lengths from 100mm to 300mm can also be supplied.

Vertical Fuse Switches

Horizontal Fuse Switches

Fuse Switch Accesories

LV Bonding/Earthing Bypass Products

Din Blade Fuses

MCCB Kits

Battery Isolators

Generator Connection Kits

Electricty Network LV Monitoring

Current Transformers
18 McKechnie Drive
Brisbane Technology Park
PO Box 4264, Eight Mile Plains
Brisbane Queensland,
4113 Australia