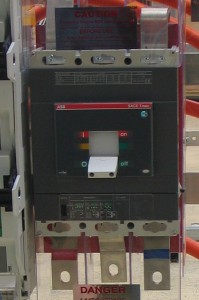 Until recently many utilities supplied large single customers with unprotected services due to the rating of the service. The size is typically above that of a single fuse switch (630A) and until recently many utilities did not regard a moulded case circuit breaker (MCCB) as a reliable protective device in an electricity network.
Paralleling fuse switches is still a common practice but this is limited to 1260A because of the maximum traditional DIN 3 fuse of 630A.
A key issue for many large customers is the opportunity to increase their electricity service over time as the company grows. This means changing to a service above the standard fuse sizes. In addition the MCCB is now recognised as the reliable device that is it with limited service required through its life. The use of MCCBs to protect single large customers has grown rapidly. In addition to normal service protection, the MCCB can also be used as a service limitation device with the electronic trip units readily facilitating setting changes (0.4 – 1 x In).
A range of kits for retrofitting are available for MCCBs up to 1600A. These kits utilise the 185mm centred busbars for the mechanical support as well as the electrical connection. Designs for various MCCB brands are available.

Vertical Fuse Switches

Horizontal Fuse Switches

Fuse Switch Accesories

LV Bonding/Earthing Bypass Products

Din Blade Fuses

MCCB Kits

Battery Isolators

Generator Connection Kits

Electricty Network LV Monitoring

Current Transformers
18 McKechnie Drive
Brisbane Technology Park
PO Box 4264, Eight Mile Plains
Brisbane Queensland,
4113 Australia