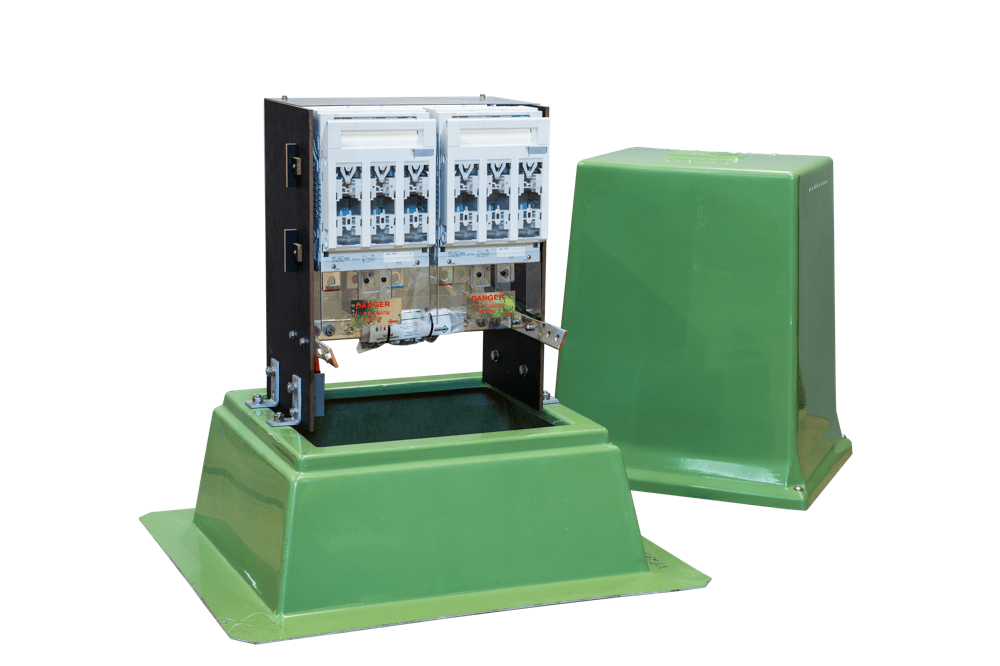 Aboveground small distribution pillars
Weber works closely with utilities to solve problems in underground networks. Connection of large cables at suitable working heights for field personnel and reliability are but two ongoing issues raised on a regular basis. The range of composite pillars and a range of small glass-reinforced polycarbonate enclosures help provide some of the answers.
The other side of the solution is the wide range of reliable switchgear at Weber's disposal. Tested to Australian conditions in Weber's temperature rise testing laboratory the reliability of the switchgear and the connecting bus work is unquestioned. Factory procedures are continually updated as processes improve. Making high current connections that last for extended periods is what is needed in an electricity network – that's what Weber does well.
Victorian Standard Distribution Pillars
| ITEM | DESCRIPTION | FUSE CARTRIDGES | STREET LIGHT SERVICES | ADDITIONAL SWITCH PROVISION |
| --- | --- | --- | --- | --- |
| VP210030-F005 | VIC SIR-BROWN-1x160A FSD+E'LDS | N | 0 | N |
| VP210030-F004 | VIC SIR-BROWN-1x160A FSD+E'LDS | Y | 0 | N |
| VP210030-F001 | VIC SIR-BROWN 1x160A FSD+E'LDS | Y | 1 | N |
| VP220030-F004A | VIC SIR-GREEN-1x160A FSD+E'LDS | N | 0 | Y |
| VP220030-F004 | VIC SIR-BROWN-1x160A FSD+E'LDS | N | 0 | Y |
| VP220030-F004B | VIC SIR-BROWN-1x160A FSD+E'LDS | Y | 0 | Y |
| VP220030-F004G | VIC SIR-BROWN-1x160A FSD+E'LDS | N | 1 | Y |
| VP220030-F004C | VIC SIR-BROWN-1x160A FSD+E'LDS | Y | 1 | Y |
| | | | | |
| VP220030-F003A | VIC SIR-GREEN-2x160A FSD+E'LDS | N | 0 | N |
| VP220030-F003 | VIC SIR-BROWN-2x160A FSD+E'LDS | N | 0 | N |
| VP220030-F003B | VIC SIR-BROWN-2x160A FSD+E'LDS | Y | 0 | N |
| VP220030-F003G | VIC SIR-BROWN-2x160A FSD+E'LDS | N | 1 | N |
| VP220030-F003C | VIC SIR-BROWN-2x160A FSD+E'LDS | Y | 1 | N |
| VP220030-F003D | VIC SIR-BROWN-2x160A FSD+E'LDS | Y | 2 | N |
| | | | | |
| VP210050-F003A | VIC SIR-GREEN-1x250A FSD+E'LDS | N | 0 | N |
| VP210050-F003 | VIC SIR-BROWN-1x250A FSD+E'LDS | N | 0 | N |
| VP210050-F003B | VIC SIR-BROWN-1x250A FSD+E'LDS | Y | 0 | N |
| VP210050-F004 | VIC SIR-BROWN-1x250A FSD+E'LDS | Y | 1 | N |
| VP220050-F002B | VIC SIR-BROWN 2X250A FSD+E'LDS | N | 0 | N |
| VP220050-F004B | VIC SIR-BROWN 1X250A FSD+1X160A FSD | N | 0 | N |
| VP220050-F004A | VIC SIR-BROWN 1X250A FSD+1X160A FSD | N | 1 | N |
| | | | | |
| VP110040-F005 | VIC SIR-BROWN-1x400A FSD+E'LDS | N | 0 | N |
| VP220050-F006 | VIC SIR-GREEN-1x400A FSD+1X160A FSD | N | 0 | N |
| VP210030F005-K1 | VIC SIR 1x160A FSD+E'LDS - INTERNALS ONLY | N | N | N |
| VP220030F003-K1 | VIC SIR 2x160A FSD+E'LDS - INTERNALS ONLY | N | N | N |
| VP210050F003-K1 | VIC SIR 1x250A FSD+E'LDS - INTERNALS ONLY | N | N | N |
| VP110040F005-K1 | VIC SIR 1x400A FSD+E'LDS - INTERNALS ONLY | N | N | N |
| VP220050F002B-K1 | VIC SIR 2X250A FSD+E'LDS - INTERNALS ONLY | N | N | N |
| VP220050F004B-K1 | VIC SIR 1X250A FSD+1X160A FSD+ E'LDS - INTERNALS ONLY | N | N | N |
| VP220050F006-K1 | VIC SIR 1x400A FSD+1X160A FSD+ E'LDS - INTERNALS ONLY | N | N | N |
| | | | | |
| VP000100-F002 | VIC SIR BOLTED LINK INDUSTRIAL GREEN | | | |
| VP000100-F001 | VIC SIR BOLTED LINK INDUSTRIAL BROWN | | | |
| VP000000-F001 | BROWN: BASE+LID+FRAME+PANEL. | | | |
| VP000000-F002 | BROWN: BASE+LID+FRAME+PANEL. | | | |
| VP000-E | PILLAR WITH NO INTERNALS | | | |
| V-CBASEB | PILLAR BASE BROWN | | | |
| V-CPILLARB | PILLAR COVER BROWN | | | |
| V-CBASE | PILLAR BASE GREEN | | | |
| V-CPILLAR | PILLAR COVER GREEN | | | |
Essential Energy Standard Distribution Pillars
| ITEM | DESCRIPTION |
| --- | --- |
| VP2630-CE01 | TWO 400A FEEDERS. ESSENTIAL ITEM 400710 |
| VP1630-CE01 | ONE 630A FEEDER. ESSENTIAL ITEM 400715 |
Energy Queensland Standard Distribution Pillars
| ITEM | DESCRIPTION |
| --- | --- |
| VP0000-EGX01 | PILLAR COVER AND BASE WITH PLAIN MOUNTING PANEL |
| VP14100-EGX01 | PILLAR WITH 14 X 80A SERVICE FUSES ON A MOUNTING PANEL |
| VP24002-F01 | PILLAR WITH 2X400A FUSE SWITCH AND 2X100A SERVICE FUSES |

Pillars

LV Assemblies - Padmount

LV Assemblies - Chamber Substations

Secondary Systems for Zone Substations
18 McKechnie Drive
Brisbane Technology Park
PO Box 4264, Eight Mile Plains
Brisbane Queensland,
4113 Australia