Underground Distribution
Pillars & Cable Pits

Weber South Pacific has been associated with Langmatz, Germany for a number of years and with their support is now able to supply a large range of cable pits and underground distribution pillars both of which are suitable for trafficable areas up to class E to AS3996. The pits are made using recycled glass reinforced polycarbonate. The product design ensures that a correctly installed pit will be stable in surrounding earth over its serviceable life.
Underground distribution pillars (UDP)
The basis of a UDP is a cable pit that is made from the large range of modules at our disposal. To date units delivered are replacements for the traditional above ground pillars in networks that require switching or protection at the pillar.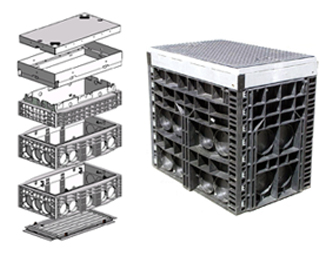 Protection devices:
7 x 80A service fuses
Trafficable rating:
Class B or C to AS3996
Max component weight:
< 20kg
Dimensions:
960L x 330W x 700D
The main principle of the UDP is that of a diver's bell. The switchgear is mounted in a watertight bell and a cover is provided to prevent the ingress of vermin as added protection. Water entering the pit cannot penetrate the watertight bell and allows the switchgear to operate in a dry environment. When the trafficable lid is removed any water present in the pit can be observed and pumped out prior to raising the bell. This ensures no compromise to the dry bell interior. The bell is hinged to provide an appropriate working height for an operator.
Cable pits are made from a range of modular elements that can be clipped together to form a wide range of sizes. Element lengths (mm) are:
This means that a pit of 250W x 2200L dimensions is possible and so on. The main elements have conduit knockouts from 50mm to 160mm for ease of use on site. The integrity of the pit wall is not compromised when the knockouts are removed.
The benefit of the Langmatz pits is the proven long life and the simplified logistics due to the possibility of site assembly.

Pillars

LV Assemblies - Padmount

LV Assemblies - Chamber Substations

Secondary Systems for Zone Substations
18 McKechnie Drive
Brisbane Technology Park
PO Box 4264, Eight Mile Plains
Brisbane Queensland,
4113 Australia