Re-Design of fuse switch parallel cable connection tag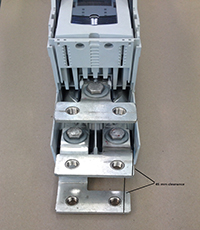 The widely used double front connection tag (TS Series) has recently undergone a design review. The TS Series tag is widely used in street cabinets where back to back connections of parallel cables are not possible. Weber initiated the re-design in response to customer concerns. Engineering manager Trevor McCall says "The re-design has resulted in the largest phase clearances that are possible on DIN 2 & 3 vertical devices".
The new design is able to accept the varying copper & bi-metal lug designs from all manufacturers up to 300mmsq. Both phase clearance improvements & universal connection of varying lugs should provide specifiers, designers & installers with confidence they are using in the best possible solution for their connection requirements. Weber envisages these improvements will help to reduce the possibility of flashover & therefore improve network reliability of our customers.
For more information contact your local Weber representative     
18 McKechnie Drive
Brisbane Technology Park
PO Box 4264, Eight Mile Plains
Brisbane Queensland,
4113 Australia